You know how sometimes it takes someone else's perspective to get you to see how better something can be? Yeah that happens a lot with me. I don't know if I live in tunnel vision or what. But lucky for me, I have a sister who doesn't. She proposed the idea of moving my food pantry to a bigger pantry that I wasn't utilizing it's full capacity. So I invited her to come help me, and she did!!
She has vision. I covet her vision. She can see how it should be. I have to be shown. I'm sure there's a psycological term for that.
Anyway, I only got one before picture of the previous larger pantry. Bad blogger.
As you can see, this is a walk in pantry. See the empty space down there at the bottom where no shelves are?? That drove my sister crazy! Wasted space drives her crazy. Again, probably something psycological. This is what it looked like before, kind of a catch all modge podge space.
No more wasted floor space.
We both thought a clock would look cute in there.
It looks so old fashioned to me
We even had time to build a couple of shelves in my hall linen closet and organize it. She's a whirlwind, that sister! She keeps me on my toes and organized.
Being organized feels so good, like losing weight, but a lot easier.
Thanks, Bev! Keep your visions coming.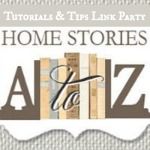 Tuesdays Treasures